Which Dokha blend is best for me
July 24, 2019
Which Dokha blend is best for me?  The Enjoy Dokha Buzz Chart has you covered!
Which Dokha blend is best for me? There are many, many different Dokha blends to choose from so when you find one you enjoy, it's very likely you will stick with that Dokha Blend.  Whether you are new to Dokha or you are looking for a new blend to try, you can use the Enjoy Dokha Buzz chart to help you pick the right blend for you!
All Dokha blends come under the following headings:
Cool (Blue)
Medium (Gold
Hot (Red)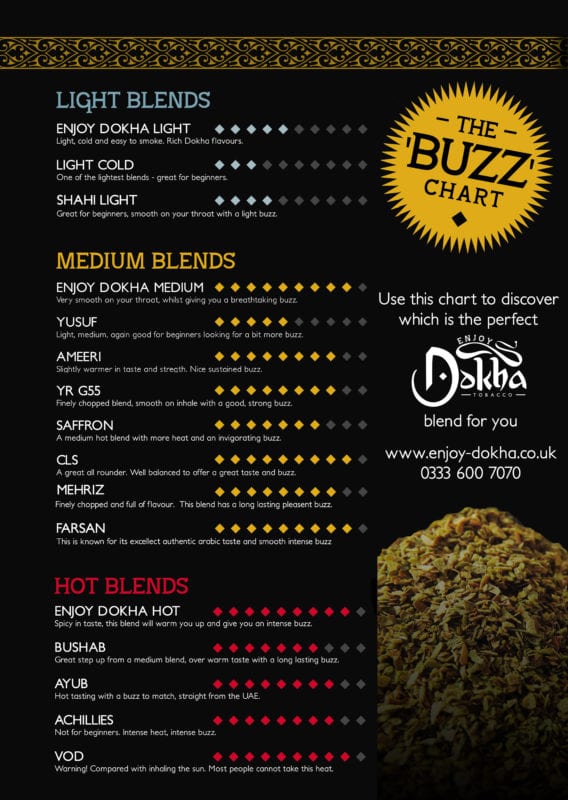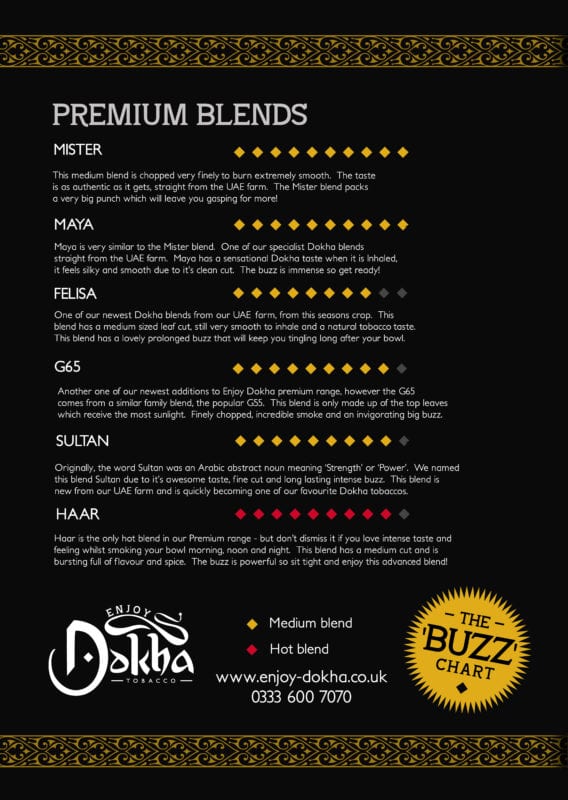 If you are a beginner and new to Dokha, then we recommend you try one of the 'Blue'  Blends on this list.  Once you are used to these cool blends, then you can experiment more with other Dokha Blends such as Enjoy Dokha Medium.
If on the other hand you are a seasoned Dokha smoker, you will probably be looking for a Medium or Hot blend.  Medium Blends tend to be quite smooth in your throat on inhale and give the user a satisfying buzz on exhale.  Hot blends tend to be quite hot to inhale, and again offer an intense feeling on exhale.  The buzz you experience normally only lasts a few seconds and will feel bigger or smaller depending on your tolerance.
One thing we all share in common with our first Dokha experience – the anticipation – the stumbling for a chair moment that made you go wow – that's quality Dokha!
Make sure you leave product reviews on Enjoy Dokha when you are logged into your account and you will be credited with 100 Dokha Points for every review you leave – For every 100 Dokha points you have, that is another pound discount off your cart.  We don't limit the amount of reviews you can leave, so if you leave 10 reviews, you will get 1000 Dokha Points and thus get 10 pounds off your cart!
Share